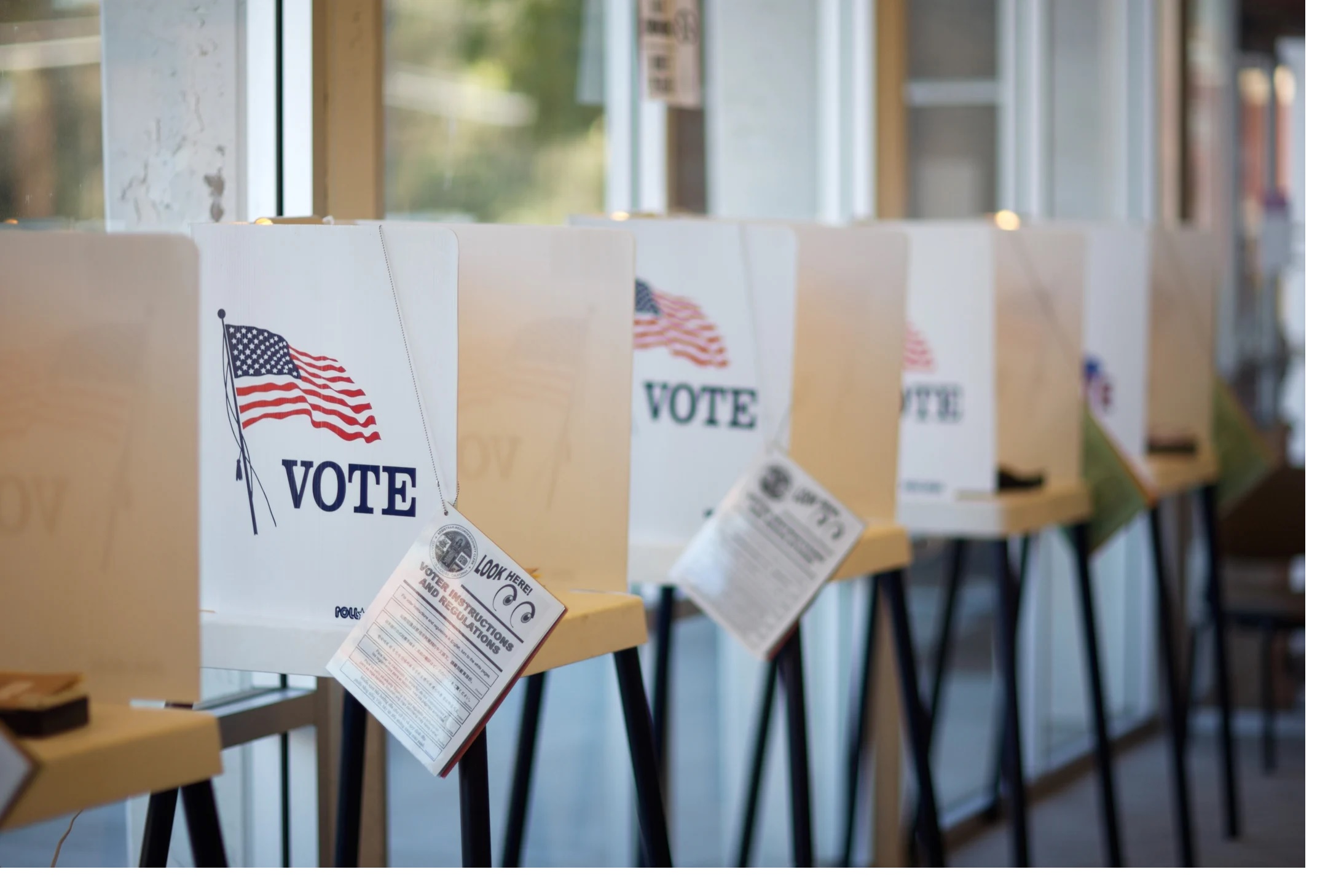 Note: This article appears on pages 3, 4, and 11 in the 2020 General Election Edition of The Edge, introduced by an article on page 2, titled "Tough Decisions for Labor Voters" (which has been embedded below this article before the Endnotes, as it contains PDC 30's concluding analysis).
PDC 30 divided up the following six issues, read about them, and formed brief summaries and discussions of each. You are encouraged to review one, two, or all in thinking about your vote for president and vice president.
Healthcare: Even with excellent healthcare benefits provided through their unions, many union members appreciate the reforms contained in the Affordable Care Act (ACA) (otherwise known as "Obamacare") – protections for pre-existing conditions and extension of coverage of child dependents until age 26, for example. The ACA has also allowed many union members to afford coverage during periods of ineligibility under their union plans.
Where the Candidates Stand on Healthcare
Donald Trump has been consistently devoted to eliminating the ACA.[1] He has sued to eliminate the entire law, including all of its protections; and that case is scheduled to go before the Supreme Court just after the election, where the Administration is expected to win its battle to eliminate the law.[2]
Moreover, Trump has presented no alternative to the ACA,[3] and nothing concrete that would protect people with pre-existing conditions.[4] Instead, he has sought to expand the number of short-term plans that exclude those with pre-existing conditions and base rates on applicants' medical history; and he continues to promote plans created by employers that exclude high-risk participants (called "Association Health Plans").[5] Trump has revived talk of "high-risk pools," but has not made clear how those covered by such plans will receive affordable coverage.[6]
As the election nears, it is not clear how Trump's efforts to lower the price of prescription drugs through an executive order will actually lower prices, and his healthcare "Vision" – announced less than 6 weeks before the election – thus far only appears to be a declaration of what he will and will not sign in terms of future legislation (after the ACA is eliminated).[7]
Joe Biden plans to build on the strengths of the ACA, including adding a "public option" for those seeking low-cost healthcare coverage.[8] He reminds voters that 20 million more people have health insurance since the ACA became law.[9] He is obviously concerned that the Supreme Court may very soon eliminate the law, leaving the healthcare environment in chaos in the midst of a pandemic.
The COVID-19 Pandemic: At the time of writing this information, a leading COVID-19 forecaster estimates that, by the end of 2020, America's total death toll will be 360,000.[10] The impact of COVID-19 has been particularly felt in "essential services," which in Illinois includes construction industries. Locally, the Tri-Council Development Fund, a partnership of IUPAT District Councils 30, 14, and 58, has indicated to state and federal lawmakers its serious concerns that COVID-19 healthcare will significantly impact short- and long-term sustainability of its multi-employer health plans.[11]
Where the Candidates Stand on COVID-19
Donald Trump asserts that his Administration took the necessary steps early in the pandemic to bring it under control, but he also admitted not telling the public the truth about the deadly and contagious nature of the virus early on.[12] He's demanded that business and schools re-open, and there is strong evidence that he believes the best answer may be for more Americans to get the virus to establish "herd immunity" while a vaccine is developed and becomes available (most experts agree that herd immunity would require 65-70% become infected; in the U.S., that could mean as many as 2.13 million deaths).[13] He continues to ignore social distancing and mask guidelines at events he holds, a practice that appears to have led to him and several others in the Administration contracting COVID-19.
Joe Biden is critical of the Trump Administration's public information about the virus, lack of respect for the guidance of health experts, constant feuding with his own appointees at the CDC and FDA, and failure to lead the nation by example in terms of social distancing and mask wearing. He believes that, in a short time, the spread of the virus could be brought under control by working with governors and mayors to adopt mask mandates nationwide, with a gradual reopening of schools and businesses to follow while a vaccine is safely developed.[14]
Biden's COVID-19 Plan commits to many things that are important to essential employees and their families (regular and free testing; federal production and dissemination of PPE; effective, equitable distribution of treatments and a vaccine; rebuilding the defenses that Trump dismantled to prevent pandemic threats; etc.).[15] Biden also supports legislation that would provide relief to the unemployed and to states to support school reopening and pandemic response.[16]
Unions and Apprenticeships: The labor movement advocates for policies that promote a full-employment economy at wages high enough to allow working people to support their families. The main purpose of unions during an election is to back policymakers who support collective bargaining and a broad range of pro-worker policies, including the protection of union apprenticeship programs.
Where the Candidates Stand on Unions and Apprenticeships
While Donald Trump has courted union members, particularly in the construction trades, he has made deep cuts to the Department of Labor and positioned the National Labor Relations Board to overturn a series of Obama-era decisions that were great for workers who collectively bargain.[17] Teachers' unions are a frequent target of his criticism, as he has sought to erode funding to public schools in favor of charter schools (he refers to public schools as "government schools").[18] Trump's aggressive tactics in Lafayette Square to clear the way for the president to stage a photo-op, and sending federal agents to sweep up protesters in Portland signal a fundamental hostility to free speech and peaceful protest – an essential right labor unions rely on to expand their influence and improve working conditions.[19]
Trump hasalso directed his Department of Labor (with an executive order) to develop "Industry Recognized Apprenticeship Programs" (IRAPs), programs that hand to employers and their associations the power to set training standards within their industries. In the construction trades, IRAPs are a blueprint for the elimination of trade-specific, union-sponsored apprenticeship programs.[20]
Joe Biden's commitment to the union way of life is well-established.[21] He has a series of policy plans that are designed to lift up working families and their unions. He also understands that attacks on public sector unions, by Trump directly or through the Courts in cases like Janus v. AFSCME, pose a major threat to the middle class in the United States.
Particularly, he seeks to bring back to the United States' critical supply chains; build a modern infrastructure and clean energy future; build a 21st century caregiving and education workforce to assist working parents (child care, care for aging relatives, etc.); and advance several major proposals from the labor movement ($15 per hour minimum wage, the Protecting the Right to Organize (PRO) Act, pay equity for women, paid sick days, etc.).[22] Biden will also make sure IRAPs do not become a popular alternative to union-sponsored construction apprenticeship programs.
Infrastructure: Many candidates promise to create jobs and improve the nation's infrastructure. That means investing in a modern, sustainable infrastructure and engines of growth both to increase job opportunities and to protect public health and safety — from roads and bridges, to new schools, to water treatment facilities, and other public works.
Where the Candidates Stand on Infrastructure
Donald Trump has continuously promised union construction workers infrastructure spending. Trump's plan turned out to be heavily focused on preserving jobs in the oil and natural gas economy, encouraging private development, and reducing environmental impact reviews before major projects begin.[23]
Despite some early excitement on Trump and infrastructure,[24] and despite bipartisan support and a Republican-controlled Congress, Trump was unable to make a deal on infrastructure. What got in his way appears to be that all infrastructure proposals he advanced included demands for money to build "the wall," which killed any chance of an easy bi-partisan win for working people.[25]
Trump has turned to executive orders to create something he can point to as an infrastructure agenda, but the orders appear designed to remove environmental regulations and rush through the permit process in pursuit of quick starts of already planned projects for which there is little public or private funding available.[26] Trump's sweeping tax cuts led to some growth, but corporations and the wealthiest Americans did not invest their tax savings into new industry, capital improvements, or jobs.[27]
Meanwhile, during the years between his promises and his re-election campaign, Trump's relationship with the building trades began to erode, as the Department of Labor under his Administration sought to dismantle unionized apprenticeships.[28]
Joe Biden is clear that he seeks to use infrastructure spending to create "good, union jobs" while addressing long-standing environmental concerns.[29] Biden's plan includes a $2 trillion investment in American infrastructure, transit, power sector, building upgrades, housing, and other public works related to the clean energy economy – to be deployed over his first term in office.[30]
These are ambitious plans; but, as vice president, Biden was essentially handed responsibility for the implementation of the American Recovery and Reinvestment Act (ARRA) – the 2009 federal relief package passed in the wake of the financial crisis – which included large amounts of money for infrastructure projects.[31] He is highly critical of Trump's failure to accomplish anything on infrastructure.[32] Biden's plans include provisions to make it easier for workers to organize (including the protections sought under the PRO Act), for public service workers to bargain, and to address the misclassification of workers as "independent contractors."
Biden will also ensure that all companies benefitting from his infrastructure and clean energy investments include labor protections and strictly abide by Davis-Bacon prevailing wage guidelines.[33] For federally funded projects, Biden also seeks to prioritize Project Labor and Community Workforce Agreements and employ workers trained in registered apprenticeship programs.
Multiemployer Pension Reform: While PDC 30's Pension Fund is well-funded, many pension funds within unionized industries are not faring as well. Of the 10 million workers in multiemployer plans, roughly 1.3 million are in plans that are dangerously underfunded. Labor-backed pension reform measures were passed by the Obama Administration in 2014 (Kline-Miller Multiemployer Pension Reform Act, or MPRA), but that law required that individual reform plans be approved by the U.S. government, which has rarely occurred under the Trump Administration. This measure also offered no source of funding (loans or otherwise) to help struggling plans reform.
Where the Candidates Stand on Multiemployer Pension Reform
Donald Trump is reportedly willing to sign multiemployer pension reform legislation; however, the Republican-majority in the U.S. Senate apparently is not, owing to their traditionally anti-union ideology.[34] For his part, for whatever reason, Trump is either not willing or able to pressure Senate Republican leadership to join him.[35] Progress under Trump on this issue will require bipartisan cooperation.[36]
If Joe Biden wins the presidency, it is fair to assume he will seek to pass a multiemployer pension plan bailout and restructuring plan, as it is a key legislative priority for labor unions. He supported the last major pension reform measure passed in 2014 (MPRA). Where that Act has been used to restructure a small number of struggling pension plans, however, it has also led some participants in those plans, who naturally found the benefit-reducing reforms undesirable to criticize Biden directly during the campaign.[37]
The Democratic-led U.S. House of Representatives passed a multiemployer pension bailout measure (Butch Lewis Act), and also included it in their now sidelined economic relief package – the HEROS Act.[38] That pension reform plan included nearly $100 billion in low-interest loans to the nation's most underfunded union pension plans, and it would provide an additional $71 billion in direct cash assistance. Biden's running mate Senator Kamala Harris was also a cosponsor of the Senate Democrats' companion legislation to the Butch Lewis Act.[39]
Biden is also strongly committed to a comprehensive plan for older Americans, including a plan to preserve and protect Social Security, which is the only backstop participants in struggling multiemployer pension plans will have if their plans become insolvent.[40]
Immigration: Labor unions are naturally drawn to help exploited workers, and often the most exploited are newly arrived immigrants. Consequently, some labor organizations represent ethnically diverse memberships and strive to organize the unorganized, so that area-standard wages and benefits are maintained in their industry. Moreover, labor organizations know that their capacity to bargain effectively requires unity across multiple unions representing workers in all fields. Being on the progressive side of the immigration debate is thus crucial to the success of these union activities.
And then there is a simple, practical matter: Bad immigration policy negatively impacts real people every day. An inhumane immigration policy produces real trauma for mix-status families, their breadwinners, and their communities. Such trauma makes jobsites unsafe, destabilizes education for children, and erodes the potential of communities to mobilize around urban planning and economic development.
Where the Candidates Stand on Immigration
In 2015, Donald Trump made clear his support for a wall across the entire expanse of the U.S. southern border. "The Wall," he argued, would reduce U.S. crime, drug use, drug overdose, and human trafficking. Unable to build a wall, he announced a ban on immigrants from Muslim nations, put in motion policies that turned away or forcibly returned all border crossers, and adopted a "zero tolerance" policy that authorized the separation of children from their parents.
Trump's hardline anti-immigration policies and behaviors are well known. With children locked in cages and sprawling refugee camps formed on the Mexico side of the border, all sides referred to it as a "humanitarian crisis."[41] Anti-immigrant violence inspired by the words of the president also emerged in El Paso and other cities. And, despite professing support for some legal status for "dreamers" (childhood arrivals brought to the United States by their parents), Trump continually sought to terminate the deferred action program (DACA), until the Supreme Court declared that he had improperly halted the program.
On DACA and other common-sense reforms, Trump's demands for "full border security" (the wall and refusal to properly process legally-arrived asylum seekers) and "a new merit-based legal immigration system" (abolition of the long-standing right of settled legal residents and citizens to sponsor their immediate family members for U.S. entry) blocked any potential for political compromise.[42]
Trump's recent campaign strategy also appears to be to continually (and incorrectly) claim that Joe Biden wants "open borders," to "expand" the asylum system, for Americans to pay for undocumented immigrants' healthcare coverage, and other groundless assertions.[43]
Joe Biden will direct federal resources to smart border enforcement efforts, like investments in improving screening infrastructure at U.S. ports of entry. He will also strive to build a flexible and humane immigration system that supports an effective U.S. economy, and safe communities and workplaces.
Biden will halt practices that separate parents from their children (the practice continues[44]), increase resources to support an efficient adjudication of asylum claims and humanely treating asylum seekers,[45] and convene the leaders of Canada and Latin American nations from which migrants originate to address the factors driving migration and propose a regional resettlement solution.
Much of Biden's plan on immigration focuses on labor issues – protecting the rights, wages, and working conditions of all workers, and holding employers accountable if they don't play by the rules.[46] This includes his support for the Protect Our Workers from Exploitation and Retaliation (POWER) Act, which provides critical labor protections for immigrants and contains vital safeguards against retaliation by employers.[47]
While formulating comprehensive immigration reform, Biden will also protect Dreamers (who are legally permitted to work) from deportation and prioritize the removal of individuals deemed threats to national security, public safety, and border security. He will restore sensible enforcement priorities and end workplace raids to ensure that threats based on workers' status do not interfere with their ability to organize and improve their wages and working conditions.
Tough Decisions for Labor Voters
Note: Material under this heading appears on page 2 of The Edge, 2020 General Elections Edition.
Whichever candidate wins – Donald Trump or Joe Biden – they will take the nation in dramatically different directions.
Donald Trump has excited many union members, bringing them closer to politics and making them feel they can reverse the forces that have eroded economic opportunity for families and communities hard hit by the 2008 Recession. Some see Trump as the better choice if they're concerned with protecting Second Amendment rights or electing a leader whose judicial appointments and policies align with their family's values on matters such as abortion, border security, and other issues.
On the other side, PDC 30 knows that many union members believe Trump has upset the values and ruined much of the hope they had formed during the Obama- Biden presidency that America would continue toward a "more perfect union," a nation where all people, regardless of their race, gender, national origin, sexual orientation, preferred language, or economic status, could realize upward social mobility.
These members see a Joe Biden victory as a route to getting the United States back on course to a fair economy that works for Main Street, not just Wall Street. They fear that they may once again face the real possibility of losing everything they've earned because of a catastrophic illness, or loss of coverage for pre-existing medical conditions. And, they want to see an end to policies that put children in cages and tear law-abiding, productive immigrants from their families. Some are also concerned that Trump is throwing gasoline on the fire in communities grappling with social unrest due to police shootings of people of color.
Many PDC 30 members, regardless of who they plan to vote for, see over 200,000 Americans dead from COVID-19, and many families facing the uncertainty and fear over COVID-19. They see experts talking about a "fall wave" with the potential to exceed previous peaks, and they worry it may take many months, even a year, for a safe and reliable vaccine to reach them.
PDC 30 is a labor union, so its guidance to members will always seek to produce outcomes that lead to more work for its members, more advantageous and durable collective bargaining agreements, and laws and regulations that favor and protect working people. Unlike previous years, PDC 30 has decided to offer an analysis of the two presidential options focusing on key labor issues, and leaving aside for you to consider personally many other important issues that might factor into your vote.
"VOTE YOUR JOB, LOBBY YOUR HOBBY"
In the March Primary Edition of The Edge, we encouraged members to focus on the issues that are most relevant to their livelihoods. In some circles, this advice is being simplified in the slogan: "Vote your job, lobby your hobby."
What this means is vote for the person best suited to protect your livelihood; as for your preferences, such as protecting Second Amendment rights and other non-economic causes and issues, know that you and others with similar views will continue to be able to advocate for those interests, and – despite the claims of special interest groups – presidents and lawmakers rarely alter rights and privileges that have existed, regardless of the party in power, for decades.
PDC 30 looked at six key issues for labor voters: (1) healthcare, (2) the COVID-19 pandemic, (3) unions and apprenticeships, (4) infrastructure, (5) multiemployer pension reform, and (6) immigration. This analysis uncovers vast differences in approaches on healthcare, COVID-19, unions/apprenticeships, and immigration, with the Biden-Harris ticket offering much better futures for working families on these issues.
On infrastructure, both have plans and we suspect they have equally serious intentions. Our analysis suggests that Biden has experience getting infrastructure plans up and running, and his plans are also more focused on creating good, union jobs that impact opportunities in the construction sector.
Multiemployer pension reform is less of a serious issue for PDC 30 members, because of the healthy status of the PDC 30 pension fund; however, the issue is critical to the health of unions across the nation. Both candidates appear to support reform measures; but Biden appears better positioned to get it done.
PDC 30's analysis points to Biden-Harris as the best choice on these key labor issues. The District Council greatly respects the right of all its members to form their own opinions and vote based on issues that are most important to them. Everyone, if they can, should vote.
---