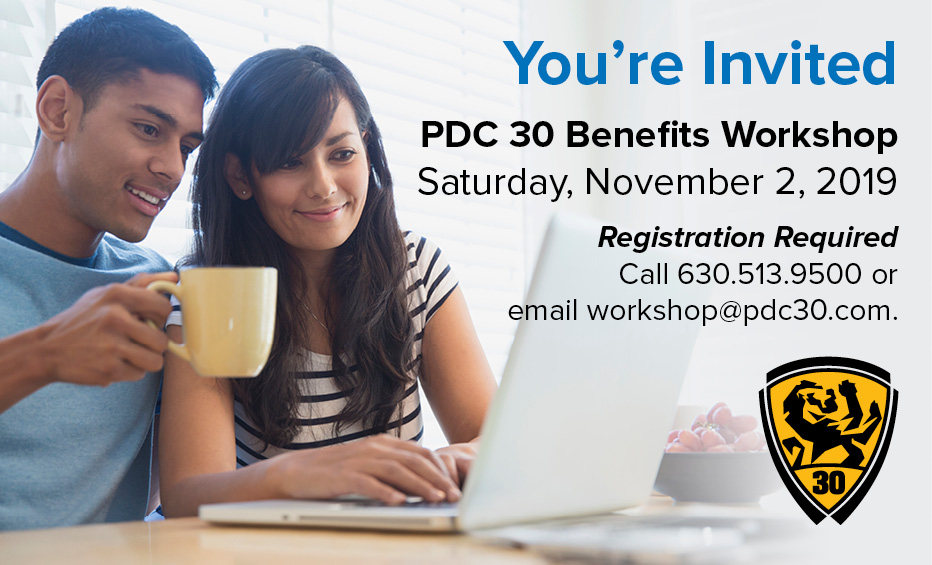 Benefits Workshop: Saturday November 2, 2019
Registration Required
The PDC 30 Benefits Office is excited to offer a Benefits Workshop, a day devoted to learning about the benefits available to member. The Workshop is open to PDC 30 members and their dependents. There is no cost to attend. All sessions will be offered in English and Spanish.
How to Register: Registration prior to the Workshop is required. Contact the Benefits Office to register. Call 630.513.9500 or email workshop@pdc30.com. We will ask who is attending and which sessions you wish to attend.
Schedule
7:30 – 8:15 am | Check-in and Breakfast
8:15 – 9:45 am | Health & Welfare Plan (1)
Detailed information on the Health & Welfare Plan: who is eligible, how they become and remain eligible, what is covered, and what is not covered under the Plan.
10 – 11:15 am | Health & Welfare Plan (2)
Detailed information on how to most effectively use the Health & Welfare Plan: How to receive reimbursement for your out-of-pocket expenses using the Family Supplemental Benefit and Member Reimbursement Account (MRA), and how the Plan covers needs like prescriptions, dental, vision, physical therapy, chiropractic services, and substance abuse treatment.
11:15 am – 12 pm | Lunch
12 – 1:15 pm | Pension Plan
Detailed information on how the Pension Plan works: where a PDC 30 Pension fits in your retirement planning, how a pension is earned and paid out at retirement, and estimating your pension amount.
1:30 – 3:15 pm | PDC 30 RSP and Q&A with the Fund Administrator
Detailed information session on the new PDC 30 Retirement Savings Plan (RSP) alternating with a session with the Fund Administrator who will answer questions on health & welfare and pension topics.
Participants will be able to schedule individual appointments with the Benefits Office to occur within two weeks from the workshop (including options for evening and weekend appts – in person and phone – available exclusively for workshop participants).