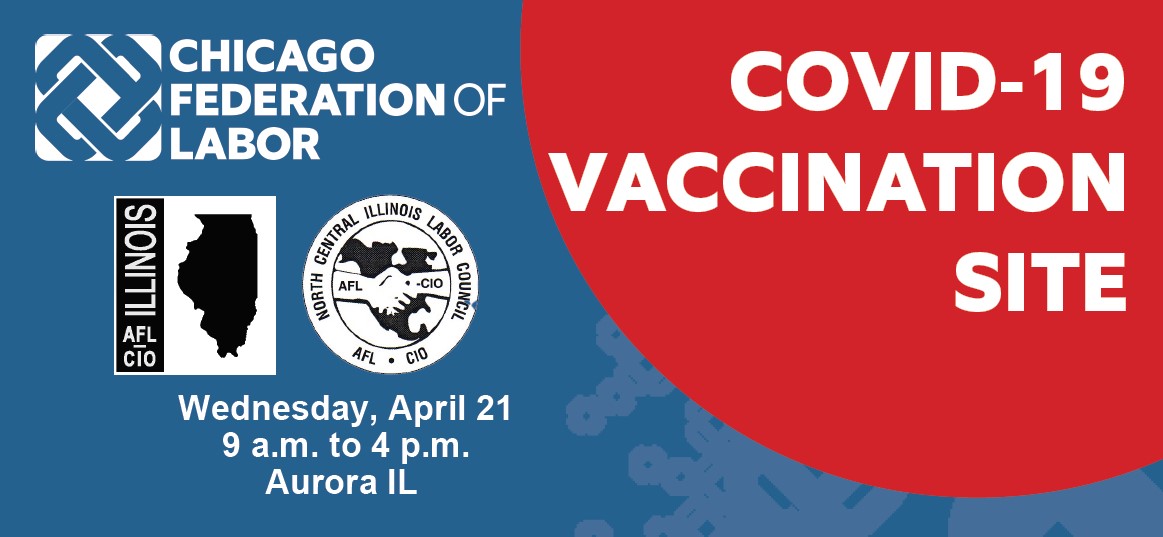 COVID-19 vaccines will be available for union members and their immediate families at the Aurora Jewel-Osco on Wednesday, April 21st, from 9AM to 4PM. Online registration is now closed, but appointments are still available - many between 2PM and 4PM. Please contact PDC 30 (630-377-2120 or 630-513-9500) to register for an appointment. This vaccine site will offer the Moderna vaccine.
COVID-19 Vaccine Event
Wednesday, April 21
9 a.m. to 4 p.m.
Jewel-Osco,1952 Galena Blvd. Aurora, IL
630-859-1212
(approx. a 7 minute drive from the PDC 30 headquarters)
To register, please contact the District Council (630-377-2120), Benefits Office (630-513-9500), or NCIFTI (630-966-1451).
Please see the event flyer for more information (English in Spanish).
Note: the location of this event was changed to the Aurora Jewel-Osco on Monday, April 19th. To view and register for another vaccination event being offered by the Chicago Federation of Labor, please visit: https://www.chicagolabor.org/vaccine.