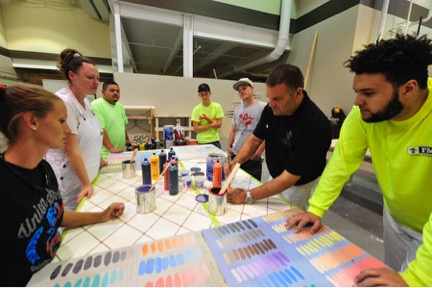 Haga clic aquí para ver esta información en español.
The North Central Illinois Finishing Trades Institute (NCIFTI) has implemented operating measures to comply with guidance of the Centers for Disease Control and Prevention (CDC), the State of Illinois, and the PDC 30 organization. Learn more about these guidelines, and if and how they affect you, in this notice.
PDC 30 has published detailed coronavirus/COVID-19 guidelines on facility operations, steps members and employers must take to work safely, Illinois' Stay at Home Order, applying for unemployment benefits, and other subjects likely to be on your minds as the coronavirus/COVID-19 crisis continues. This notice concerns the operations of the PDC 30 apprenticeship program AND other training curriculum scheduled for the 2020 calendar year.
For Apprentices:
Effective Saturday, March 21, 2020, the NCIFTI facility closed until further notice, consistent with the actions of other building trades programs and state and federal guidelines. Apprentice make-up classes scheduled for March 23-26, 2020 have been cancelled, and affected students were notified.
The NCIFTI facilities will re-open when authorities advise that it is safe to resume in-person instruction. During the period of closure, the NCIFTI staff and faculty will continue to actively serve the needs of apprentices. At this time, in-person apprenticeship classes planned for April-June (2nd quarter) are thus postponed until further notice. Given the uncertainty of the longevity of the coronavirus pandemic, the NCIFTI staff and faculty are currently identifying curriculum and course work that can effectively be delivered through E-Learning equivalents and all other forms of technology in order to provide an option for our students to continue their progression through their apprenticeship programs and their careers. In the coming weeks, apprentices should:
Notify the NCIFTI of any contact information changes or preferences (phone, email & address).
Review the guidance and frequently revisit www.pdc30.com or pdc30.com/coronavirus for PDC30 updates and guidance, and to report if they are laid off (using the PDC 30 Out-of-Work List); and, use the PDC30 member portal to efficiently handle your benefit claims, processing of dues, and other core functions.
Pay attention to your emails and phones for further information and guidance related to your apprenticeship program moving forward into next quarter.
Please alert your employer to this notice; encourage them to review it and other updates that follow.
Please note: Apprentices who are laid off between now and the resumption of in-person classes should review PDC 30's guidance on unemployment benefits. Review this material entirely, but note particularly that laid off apprentices should not indicate that they are "students" when this question is asked on the application for unemployment benefits, as their participation in the apprenticeship program is a mandatory condition of their employment (the term "student," as used by the Illinois Department of Employment Security, is intended to mean a person attending a college or university, or pre-employment vocational program, not a registered apprenticeship program that combines on-the-job learning and direct instruction).
For Journeypersons and STARs Participants:
In-person STARs classes have been cancelled through the month of July, 2020; however, online training options are being offered. Online OSHA 30 is available to replace the in-person OSHA 30 classes scheduled in April. Registration is still open and the online portion of United Academy Aerial Lift training is still available. At this moment, the United Academy Aerial Lift practical evaluations are scheduled to occur on April 25 in Morton, and the NCIFTI will arrange for the in-person practical evaluations to occur by appointment in conditions that comply with social distancing requirements (subject to change). Contact the NCIFTI for more detail at 630-966-1451 or at vperez@pdc30.com. Registration for STARs classes remains possible through the PDC 30 member portal ("Member Tools"). Contact the NCIFTI for your user ID and password if you do not already know it.
As the coronavirus/COVID-19 crisis evolves, the STARs class schedule is subject to change; adjustments will be made to the online schedule in the member portal and outlined on PDC 30's coronavirus/COVID-19 information page.