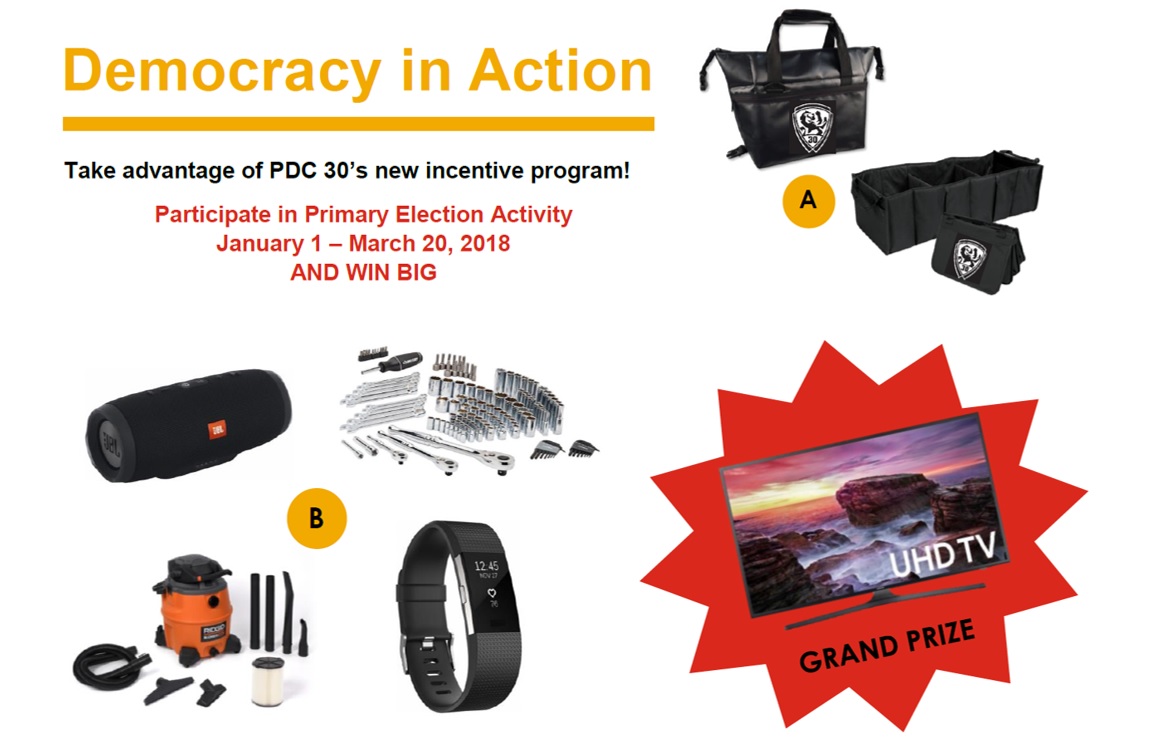 Take advantage of PDC 30's new incentive program - Participate in Primary Election Activity January 1 – March 20, 2018 AND WIN BIG!
PDC 30 developed a new prize program to reward members that regularly participate in political action activity during an election cycle. Join us for labor walks and phone banking before Election Day, then cash in on some exciting prizes! Events are scheduled on Wednesdays (4pm-7pm), Thursdays (5pm-8pm), Saturdays (10am-2pm), and Sundays (1pm-4pm) in Aurora, Rockford, Peoria, Bloomington, Ottawa, and Kankakee. See the full list of events below.
All PDC 30 members are eligible for prizes. All election activity between January 1st and March 20th will be counted. Check out the incentive flyer for prize details. Call Mark Guethle for questions, or to sign up to volunteer: 630.450.8354
HOW IT WORKS:
A. Participate in two activities to select a prize from tier A.
B. Participate in three or more activities to select a prize from tier B.
C. The member with the highest participation total will win the GRAND PRIZE FLAT SCREENTV!
Labor Walk Dates
February 28, 4pm - 7pm
March 3, 10am - 2pm
March 10, 10am - 2pm
March 11, 1pm - 4pm
March 17, 10am - 3pm
Phone Bank Dates (Aurora Only)
March 1, 5pm - 8pm
March 5, 5pm - 8pm
March 6, 5pm - 8pm
March 7, 5pm - 8pm
March 8, 5pm - 8pm
March 9, 5pm - 8pm
March 12, 5pm - 8pm
March 13, 5pm - 8pm
March 14, 5pm - 8pm
March 15, 5pm - 8pm
March 16, 5pm - 8pm
March 19, 10am - 3pm
March 20, 10am - 3pm