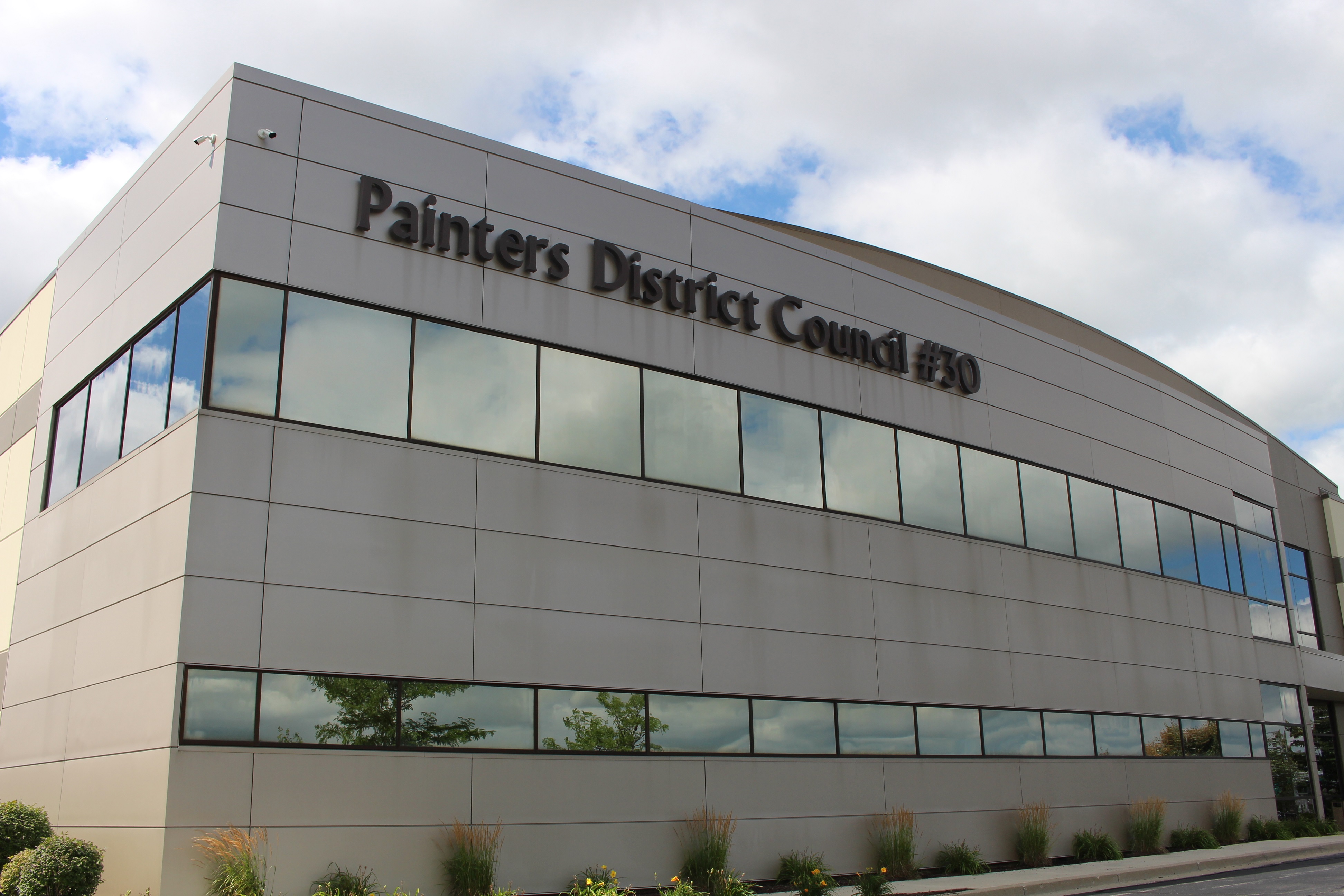 Haga clic aquí para ver esta información en español.
Painters District Council No. 30 (PDC 30) is pleased to announce plans to partially re-open the Aurora facility, and to make staff available to meet in-person with members and visitors, beginning July 27th. On and after that date, members/visitors will be able to schedule an appointment for in-person meetings with the necessary office based on their needs. Apprentices and members scheduled to attend training programs should follow separate guidance provided to them by the NCIFTI.
In order to maintain a safe and healthy workplace and instructional environment for those who must utilize and visit the facility, staff of all three of PDC 30's offices (District Council, Benefits, NCIFTI) will continue to provide individualized service to members and encourage the use of email, phone, or mail if at all possible. All members/visitors are encouraged to first determine if they can accomplish their goals by calling the office directly, using online resources, or through the mail to perform functions including (but not limited to):
new member applications and paying dues
applying for benefits or making payments to the Benefits Office
submitting receipts for reimbursement through the MRA or Family Supplemental Benefit
submitting requested forms and questions about benefits coverages and claims
registering for NCIFTI classes
PDC 30 also has a lockbox outside the north-facing front door for material you wish to leave for staff members or specific offices. (Please make sure we know you are leaving such material by calling us.) Staff and services are available by phone, email, or through the website at www.pdc30.com. Members needing assistance with login credentials (ID and password) to access the secure member portal can call (630) 513-9500, and a staff member can walk them through the process.
If an in-person meeting is especially helpful or necessary, members/visitors will be able to arrange by appointment a visit to the facility. Strict health and safety protocols will be implemented during the visit.
On Friday, June 26th, Governor JB Pritzker announced the transition into Phase 4 of the "Restore Illinois" plan. It is critical to note that this does not signify a return to pre-pandemic operations. Appropriate social distancing, face coverings, symptom and exposure monitoring, enhanced sanitation measures, and other accommodations are necessary to ensure the safety of members, visitors, staff, and their families. PDC 30 is implementing the necessary administrative strategies and health and safety protocols while preparing the facility to meet or exceed guidance published by the Illinois Department of Public Health.
While July 27th begins the re-opening of the Aurora facility, access is restricted to only members/visitors who have scheduled an appointment for a specific date and time. Members/visitors coming to the facility for appointments will be required to adhere to the following protocols:
Arrange appointments directly with the office you need services from (see phone and email contact below). Each office will determine the best plan for the appointment, which might be to meet you (a) at your car outside the office, (b) under a tent outside the office, or (c) within a designated area inside the building.
If you have an appointment outside the building, you should park near the designated tent.

The District Council tent is located on the east side of the building, marked with a green PDC 30 flag.
The Benefits Office tent is located on the west side of the building, marked with a red PDC 30 flag.

Once parked, you should call the office with which you have the appointment for instructions. PLEASE NOTE: the south-facing entrance and large tent on the south side of the building is for the NCIFTI only (for apprentices and others scheduled for training); unless directed to do so by the NCIFTI staff, please do not enter the building through this door or arrive to meet a staff member under this tent.
If you have an appointment inside the building, you should plan to enter using the north-facing entrance (facing Route 88). You should park in the front and call the office with which you have an appointment from your car. A representative from that office will let you in. If calling from your car is not possible for any reason, an intercom system is also available at the north-facing entrance.
Face coverings are required for ALL appointments with staff. If you do not have a face covering when you arrive, one will be provided.
Social distancing will be strictly enforced for ALL appointments with staff (minimum of 6 ft. apart, no physical contact allowed, and proper cough/sneeze etiquette).
If your appointment is inside the building, you must cooperate with temperature scans and a symptoms/exposure assessment conducted once you have entered the facility. Those showing signs of, or reporting, possible COVID-19 exposure will not be allowed to remain in the building.
Hand sanitizer and disinfectant solutions will be available.
Limited/Restricted Access: Members/visitors with appointments inside the building will only have access to the large foyer area on the first floor of the facility and may only enter using the north-facing entrance. Depending on the purpose of each visit and capacity limitations, members/visitors will be directed to an appropriate meeting space where social distancing requirements can be followed. The first floor restrooms are available for members/visitors and may be used one person at a time. Members/visitors will not be permitted to move beyond the first-floor foyer and conference space without being accompanied by staff.
Please note:
Your safety is important. Staff members are required to follow face covering and social distancing protocols during all visits. Appointments allow the staff of each PDC 30 office to prepare for visits and be certain the appropriate staff member is available to address the specific concerns of the member/visitor on the day of their appointment. Appointments also allow the staff to offer a safe and healthy environment for those with scheduled appointments. If you arrive at the facility without an appointment, we cannot guarantee we will be able to address your needs at that time. If you have any questions, concerns, or need any additional information, please contact PDC 30 at (630) 377-2120, or at one of the other office numbers below.
TO SCHEDULE AN APPOINTMENT…