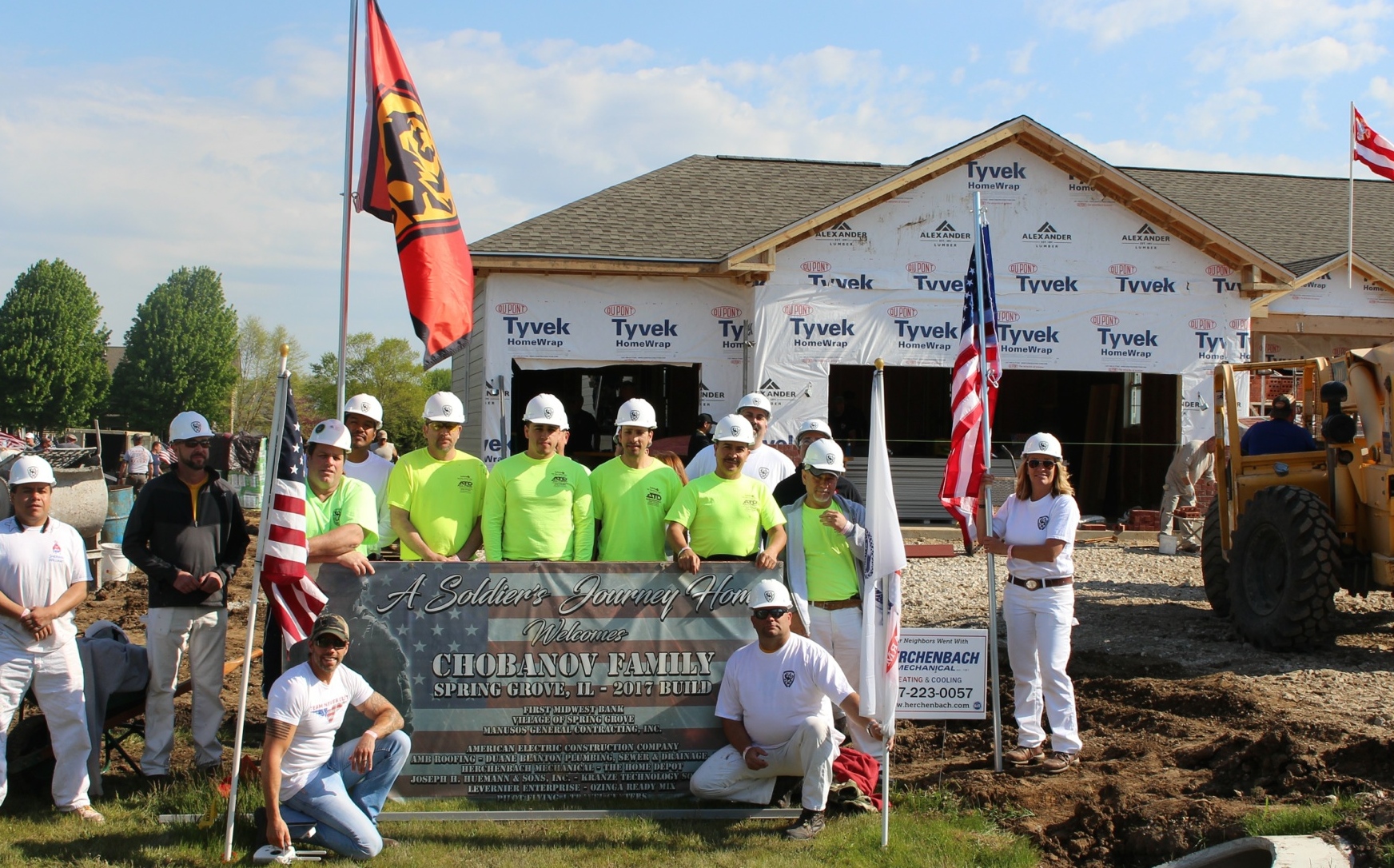 For 10 years, Tony Chobanov has battled TBI and PTSD as a result of his military service. The conditions have made it near impossible for him to maintain a job outside of his home. Almost two-thirds of his family's income goes toward rent, which doesn't leave much for them to live on.
He is a decorated soldier and an American hero, so Painters District Council No. 30 (PDC 30) wanted to help him live rent-free. On May 13 and 14 of 2017, over 30 volunteers from PDC 30 lent their drywall and painting expertise to A Soldier's Journey Home, a national organization that builds houses for veterans. The work was made possible thanks to PDC 30's Community Service Grant, which provided volunteers and materials for the Chobanov family's new home.
PDC 30 received nearly 20 grant applications, but A Soldier's Journey Home immediately stood out among the rest. It turned out to be an easy choice. The thought of helping someone who fought for our country was the driving factor in selecting A Soldier's Journey Home. The unanimous decision allowed the project to get underway quicker than expected and was put into motion almost immediately.
Steve Kulovits, the Director of Business Development at Finishing Solutions Network, oversaw the weekend project and worked to put together a fit team for the job alongside Marisa Richards, Outreach & Engagement Program Manager at PDC 30. Together, they collected over 30 volunteers to work over the two-day period.
David Arvayo, PDC 30's Instructor of Drywall Finishing, coordinated supply and materials and also ran the drywall project all day on Saturday, ensuring the work was done on time despite a delayed morning start. Mike LeGood, General Superintendent at All-Tech Decorating (a proud union contractor), led the painting and priming work on Sunday.
The drywall and paint portions were completed entirely in the allotted two days, and the entire house was built in just 10 days. The house was revealed on May 19, 2017, completely ready for the Chobanov family to move in.
"Tony is a great guy," said Kulovits. "He and his wife Abby couldn't have been better hosts. They were in awe of the generosity of the volunteers. You can just tell this is going to be a great relief for them."
Everyone at PDC 30 would like to extend a huge thank you to Sherwin Williams for generously donating all of the paint for the new home. We would also like to personally thank each and every PDC 30 volunteer for their excellent work. Combined, they donated over 300 hours of their own time to give back to a local veteran in need.
Drywall and Paint Volunteers for A Soldier's Journey Home
For more information about PDC 30's grant program and to apply for the next grant cycle, visit www.pdc30.com/grant.