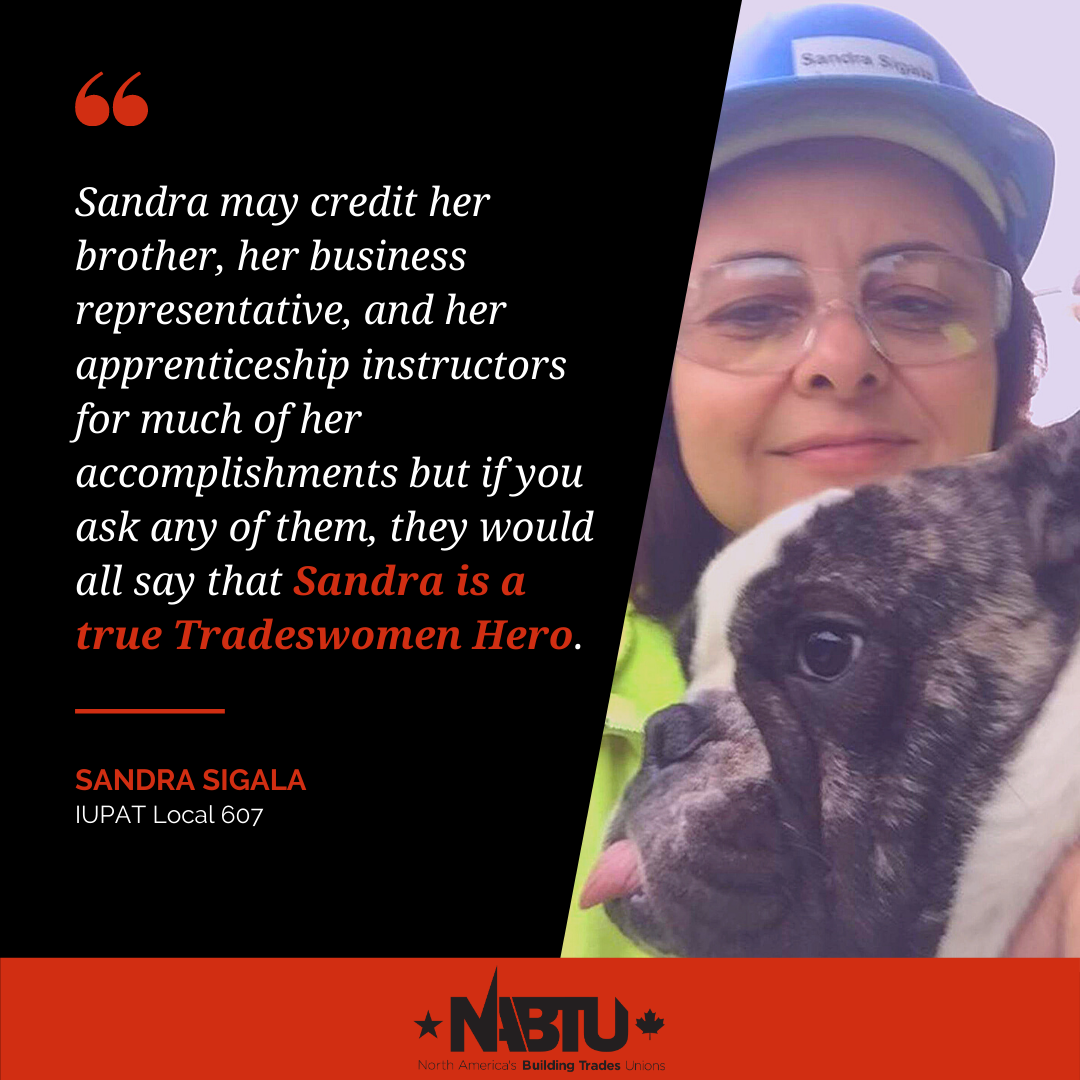 In February, 2021, PDC 30 Local Union #607 member Sandra Sigala received the "International Tradeswomen Heroes Award," a monthly award established by the North America's Building Trades Unions (NABTU) to highlight female union trades workers across the U.S. and Canada that lead by example and perform their duties at an outstanding level.
Sandra Sigala first joined PDC 30 Local Union #607 as an apprentice in 2005. She graduated the program in 2008, earning the prestigious "Secretary-Treasurer's Award" for her outstanding performance in school, on the job, with the union, and throughout the community. Now a Foreman Painter, Sandra has continued to build upon those performance attributes to become a true leader in her field. Her passion and professionalism in all aspects of her work have earned her the upmost respect from her fellow trades workers.
"As I see it, being a Tradeswoman Hero means doing what's needed to survive and giving back a little of your time to show appreciation to those that helped along the way," shares Sandra Sigala. "To be chosen among the many incredible tradeswomen out there every day, leading the way for the next generation, is such an honor."
"Sandra is a great example of what an active union member looks like," shares John Penney, PDC 30 Local Union #607 Business Representative. "She is an active voice in her Local, she is a mentor on the jobsite, and a passionate volunteer within her community."
Sandra joined the union as a single mother, determined to find a career that would provide a good wage and benefits for her family. She turned a job opportunity into a career to be proud of and has become a role model on and off the jobsite. One of her children is currently a third-year apprentice painter and well on his way to follow in his mother's footsteps.
"It gives me an overwhelming sense of pride and gratitude to be able to represent painters, mothers, and minority women in this fashion," continues Sandra. "I hope to use this title as a platform to make my voice heard and to hold the door open for more females entering our industry."
"We are honored to have Sandra represent our union under this prestigious title," adds Ryan Anderson, PDC 30 Business Manager. "Her accomplishments are very well-deserved, and we look forward to seeing her continue to grow and thrive throughout her finishing trades career."
Sandra was one of four award recipients for the month of February. Awards were also presented to Mishelle Wallace (Ironworkers Local 392), Sydney Kolnberger (Ironworkers Local 512), and Sarah Harkssen (UA Local 3).
"Each of these Tradeswomen Heroes are exemplary building trades' members and represent our affiliate unions to the highest degree," said NABTU President Sean McGarvey. "They are role models and trailblazers and reflect what we love and honor about our workforce."
The NABTU Tradeswomen Heroes award was created in a joint effort between NABTU's Tradeswomen's Committee and Apprenticeship and Training Committee to congratulate and spotlight the dedicated tradeswomen within NABTU's affiliate unions.
"We are excited to spotlight phenomenal tradeswomen within our unions," said Vicki O'Leary, NABTU Tradeswomen Committee Chair. "For decades, our tradeswomen have persevered through all kinds of adversity and triumphed on all levels, and we are proud to launch an awards program dedicated to honoring these women and their accomplishments."
Tradeswomen Heroes nominations are made by members of the following NABTU groups/committees: Governing Board of Presidents; Tradeswomen's Committee; Apprenticeship and Training Committee; Communications Committee; State, Provincial, and Local Council Leaders; and Business Managers from NABTU international affiliates.
Nominations are then reviewed and winners are chosen by the Tradeswomen Heroes Sub-Committee, made up of five members - three from NABTU's Tradeswomen's Committee and two from NABTU's Apprenticeship and Training Committee. To learn more about these tradeswomen and their outstanding track record within the building trades, visit http://nabtu.org/twbn. View Sandra's award bio here.
"It's great that NABTU is honoring our Tradeswomen Heroes each month," said Tom Kriger, NABTU's Director of Research and Education. "We need more women in the Trades and the trailblazing women honored here to provide great examples of the career pathways available to young women from across the US and from all walks of life."