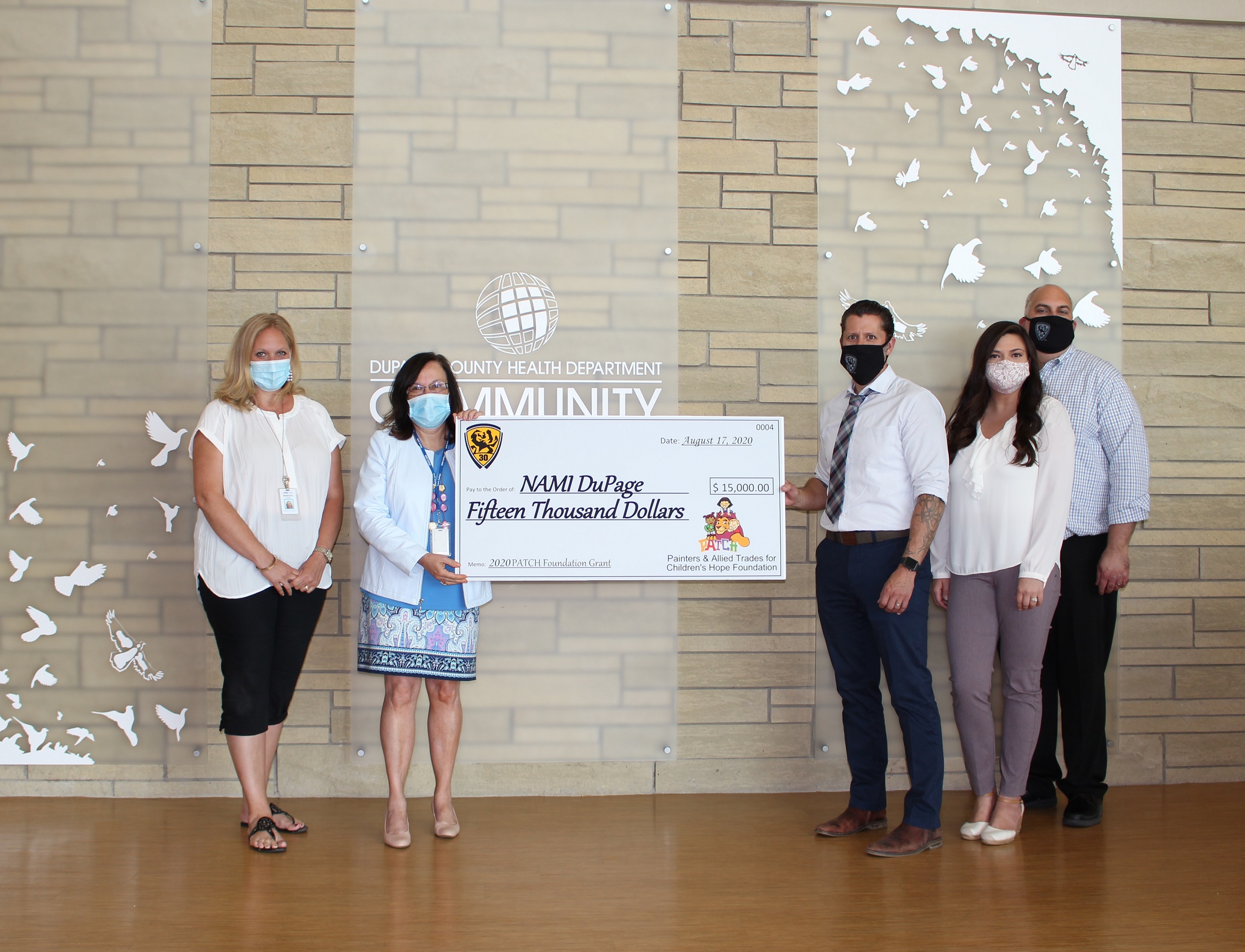 On Monday, August 17, 2020, Painters District Council No. 30 awarded $15,000 to NAMI DuPage, in support of their "Ending the Silence" program, which works with students throughout DuPage county to raise awareness on mental illness and reduce the stigma associated with it. The $15,000 award was part of PDC 30's annual grant program, which awards funding to organizations benefiting children and professional renovation services to local community organizations in need.
Working in collaboration with middle schools and high schools throughout DuPage county, NAMI DuPage provides support, advocacy, and education to improve the quality of life of individuals with mental illness. Using a series of targeted presentations for students, faculty, and parents, the "End the Silence" program not only promotes early recognition of mental illness, but also provides immediate intervention for at-risk youth so that any student struggling with mental illness can get the help they need to live a healthy, productive life.
PDC 30's $15,000 PATCH Foundation Grant funding will enable NAMI DuPage to expand their End the Silence program to additional schools in Aurora and DuPage county.
PDC 30's grant program, first launched in 2017, was developed to provide support and service for the many non-profit organizations that make up our local communities. Each year, PDC 30 awards one PATCH Foundation Grant to an organization requesting financial assistance to develop or enhance a program benefitting children within the community. This year, the PATCH Grant award was increased to $15,000 and awarded to NAMI DuPage.
As the events and health and safety concerns related to COVID-19 began to unfold, PDC 30's 2020 grant funding became much more imperative. "Research shows that children and adolescents are experiencing mental distress due to the disruptions of the closure of schools, activities, and maintaining social and physical distancing," says Bonnie Wolinski, NAMI DuPage Grant Writer. NAMI quickly adapted to a virtual presentation model, ensuring that no child fall through the cracks during the uncertainties brought on by the 2020/2021 school year.
In addition to the PATCH Grant award, PDC 30 awarded multiple 2020 Community Partnership Grants this summer to organizations requesting repainting and renovation services. 2020 Community Partnership Grant award recipients were Aurora Area Interfaith Food Pantry (Aurora), Kids Above All (Lisle), Marie Wilkinson Food Pantry (Aurora), Simply Destinee Youth Center (Aurora), and The Den Community Group (Oswego). PDC 30 plans to complete renovation projects for each award recipient throughout the remainder of the year. All renovation work will be performed by union volunteers - highly trained professionals who take pride in their work and continuously seek opportunities to volunteer their skills, showcase their craft, and give back.
"As we close out our fourth award cycle, I'm proud to share how much we've been able to accomplish," says Marisa Richards, PDC 30's Outreach & Engagement Program Manager. "Since 2017, PDC 30 has provided $45,000 in funding to four organizations and coordinated renovations for more than 25 organizations. Our union members care a great deal for our communities and look forward to awarding funds and services to organizations in need each year."
For more information, including updates and announcements regarding PDC 30's 2021 grant opportunities, visit https://pdc30.com/grant.