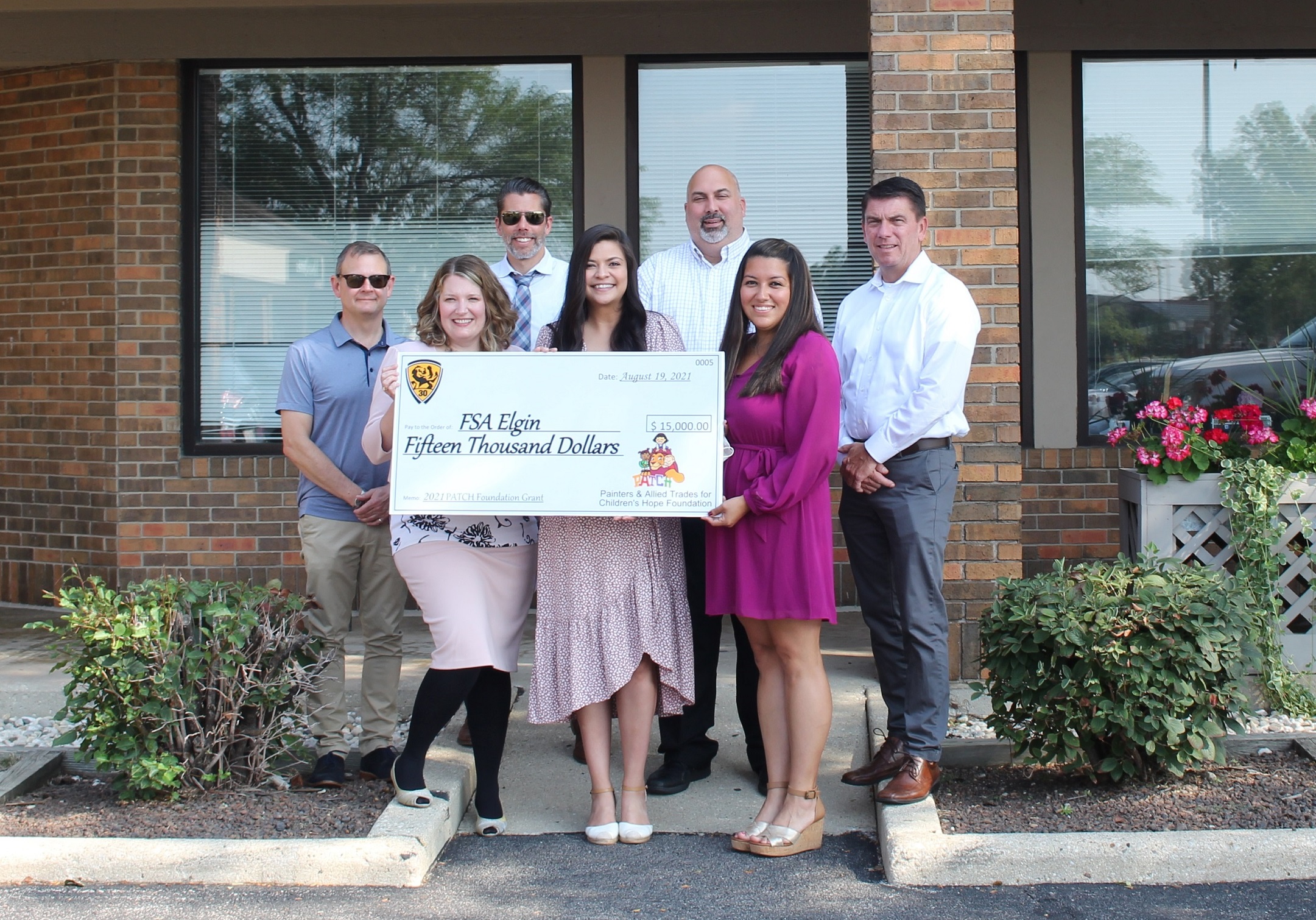 On Thursday, August 19th, PDC 30 presented the 2021 PATCH Foundation Grant award to Family Service Association of Greater Elgin (FSA Elgin), in support of their crisis therapy services program benefitting young children. The $15,000 award was part of PDC 30's annual grant program, which awards funding to organizations benefiting children and professional renovation services to local community organizations in need.
FSA Elgin is a community-based mental health agency dedicated to quality, accessible, holistic, and client-centered behavioral health services, serving clients 3-18 years of age throughout Kane and Kendall counties in Illinois. The $15,000 grant funding will enable FSA Elgin to incorporate additional play therapy tools into their crisis therapy services program to reduce negative effects of emotional trauma and/or family dysfunction on young children and their families, while also teaching children self-control, self-esteem, emotional understanding, and expressive communication skills.
"Play therapy is a specialized area of practice and a way to relate to clients who are unable to verbalize their feelings. Because of this, therapy happens through play," shared FSA Elgin, within their grant application. "When children are unable to make sense of the changes around them, or experience traumatic events, the use of play in play therapy is essential in readapting their behaviors and understanding their emotions."
PDC 30's grant program, first launched in 2017, was developed to provide support and service for the many non-profit organizations that make up our local communities. Grant award winners are selected by PDC 30's CORE Advisory Council, which is comprised of union members, retirees, and union staff. Since its launch, PDC 30 has provided $60,000 in funding to five organizations and coordinated renovations for more than 30 organizations.
FSA Elgin's mission ties in well with many recent initiatives to combat mental illness among organized labor and the construction industry. Unions across the nation are taking bold steps to invest in and support mental health services and initiatives in their communities. At the IUPAT, the newly launched "Helping Hands" program works to provide support for members suffering from mental illness, increase awareness of the impacts of substance use disorder and suicide in the construction industry, and reduce the negative stigmas associated with mental illness. On the local level, PDC 30 is working to develop a mental health awareness course that educates members on the importance of mental health, while also empowering members to be allies and advocates for each other on the jobsite, changing the culture of construction one student at a time.
"We're honored to be able to support FSA of Elgin and the great work they do," said Ryan Anderson, PDC 30 Business Manager/Secretary-Treasurer. "Our members are very invested in their communities, and it's great to be able to make a positive impact on a local organization that supports children and focuses on mental health."
To learn more about FSA Elgin, visit fsaelgin.org. To learn more about the IUPAT Helping Hand program, visit finishingfirstlmci.com/iupathelpinghand. To learn more about PDC 30's grant program and to apply during the next grant cycle, visit pdc30.com/grant.