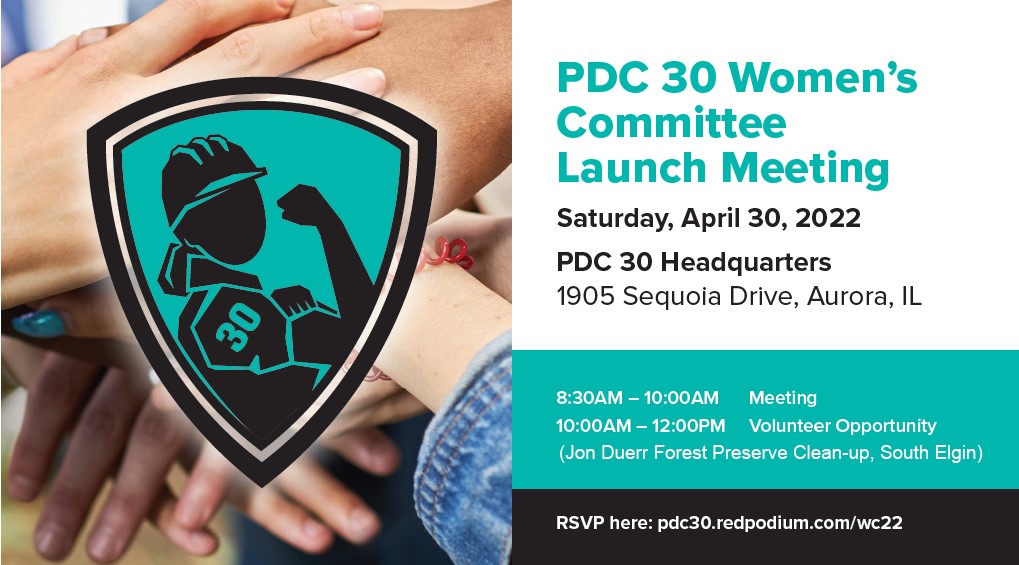 Join us Saturday, April 30, for the PDC 30 Women's Committee launch meeting. The meeting will take place at PDC 30's headquarters in Aurora from 8:30AM to 10:00AM. All female PDC 30 members are invited to participate.

Women's Committee Meeting
Saturday, April 30, 2022
8:30AM -10:00AM: Meeting (PDC 30 Headquarters: 1905 Sequoia Drive, Aurora, IL)
10:00AM - 12:00PM: Volunteer Opportunity (Jon Duerr Forest Preserve Clean-up: 35W003 Route 31, South Elgin, IL)

The PDC 30 Women's Committee was developed to provide support for female tradespersons by encouraging females to become active, informed leaders in their crafts and in their union. If you are a female looking to become more active in your union, to assist the organization in recruiting more females to our trades, or to join a network of like-minded individuals focused on sisterhood and solidarity, we encourage you to join the PDC 30 Women's Committee!
Women's Committee meetings and networking events will be held on a quarterly basis and will be scheduled in different locations throughout our jurisdiction. Following the launch meeting on April 30th, we will join forces with PDC 30's CORE Advisory Council to participate in the 2022 IUPAT Community Day of Action park clean-up in South Elgin, from 10AM to 12PM. Food and drinks will be provided. Please bring lawn/garden gloves if desired.
Questions? Contact Marisa Richards by phone (630-377-2120) or email (mrichards@pdc30.com).